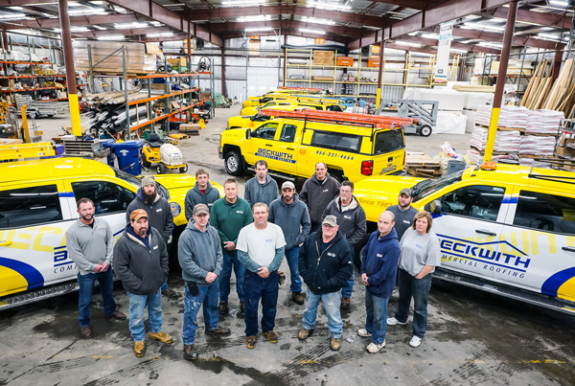 Our commercial roofing team tops them all.
About
Beckwith
Commercial Roofing
Thank you for your interest in Beckwith Commercial Roofing, Inc.
We have been serving Iowa, Illinois, and surrounding states for 35 years. Beckwith Commercial Roofing has consistently received excellent ratings and awards from manufacturers and suppliers for its quality of service and installation.
Whether it's new or existing construction, or repairs or replacement, we can provide you with quality workmanship and American-made products that last.
In recognition of outstanding achievement in quality workmanship, customer satisfaction, and 2017 sales excellence, Duro-Last presented Beckwith Commercial Roofing, Inc. with the Chairman Award, which honors contractors with exceptionally high sales, and the Platinum Award, which honors contractors with outstanding workmanship.
our historyBeckwith Commercial Roofing, Inc. was founded in 1983 by Jeff Beckwith with a commitment to quality, safety, and customer satisfaction.​​​​
Jeff Beckwith has built his team from some of the best roofing experts in the industry such as Dan Determan, Sales Manager, and Clay Romer, Sales. Ron Dierksen, Angie Brown, Craig Abbott, and Adam Simmons are Project Managers and Site Supervisors. Jamie Schomer and Andy Barrett, Roof Technicians,  are a huge asset in troubleshooting the most difficult roofing leaks. Jason Richmond is the Safety Coordinator, Site Overseer, and Metal Shop Manager. These highly-trained and skilled roofers have a total of over 100 years combined experience.
With this team of experts, it is no wonder that Beckwith Commercial Roofing has enjoyed taking on and successfully completing challenging projects.
One of the largest applicators in the Tri-state area. Second largest in the state of Iowa.
Prefabricated sheets require less time and labor on roof installation and come with a manufacturer's 15-30 year material and labor warranty.
Meet Our Office Personnel



Dan Determan, Sales Manager




Clay Romer, Sales




Shelly Field, Office Manager




Danica Baker, Administrative Assistant
Memberships
Clinton Chamber of Commerce
Better Business Bureau (A+ rating)
Master Builders of Iowa
ISNet World
Service Live
Browz