Choose the Flat Roofs that Work Best for Your Business
Flat roofs are some of the most convenient and cost-effective commercial roof options for business owners. Moreover, a flat roof is one of the best solutions for keeping your facility in great condition and protecting the well-being of those inside. As such, Beckwith Commercial Roofing supplies numerous flat roof systems, each with its benefits. When selecting a new roof for your business, you can trust Beckwith's excellent guidance, expert installation, and superior roofing materials.
Why Select Flat Roofs?
When picking a commercial roof for your facility, you have several options: flat, metal, low-sloped, and pitched roofs. However, when presented with a choice, most business owners opt for flat roofing due to its advantages. Such advantages include:
Straightforward Installation -; While some flat roof types are more challenging to install, all flat roofs require fewer materials and labor than other commercial roofing. Between less labor and materials, flat roofs are easier and significantly more affordable to install than other roof types.
Energy Efficient -; Some materials used with flat roof installation lend greater energy efficiency for your roof and facility. By placing your roof membrane over the top of sheets of installation and eliminating gaps on the surface of your roof, your facility stays airtight. Thus, you can keep heating and cooling costs low.
Versatility -; Flat roofs are easy to access, allowing business owners versatility in utilizing their roofs. For example, flat roofs can house your building's HVAC units, backup generators, gardens, solar panels, satellite dishes, etc. Easier access also means easier cleaning, maintenance and repair for your roof.
Flat Roof Types
Beckwith Commercial Roofing can provide roof installation, inspection, maintenance and repair of all flat roof types, such as built-up roofs, modified bitumen roofs and single-ply membrane roofs. Here is what you can expect with each roof type:
Built-Up Roofs -; Also called BURs, built-up roofs are the oldest type of commercial flat roof still in use. BURs utilize multiple layers of roofing felt kept in place by hot-applied asphalt or coal tar pitch. A BUR's final layer of protection is crushed stone, which helps propel severe weather and UV rays.
Modified Bitumen Roofs -; A modified bitumen roof is installed similarly to a BUR. The key difference between the two is the material used. Polymer reinforcement is used for its flexibility and elasticity in place of asphalt or tar pitch. Often, this type of roof is best for lower temperature climates.
Single-Ply Membrane Roofs -; Single-ply roofing is one of the most recent advancements in commercial flat roofs and the roof type that Beckwith Commercial Roofing specializes in. Single-ply membrane roofs use factory-made synthetic rubber or vinyl. Thin sheets of either material are applied to a substrate, which adheres the membrane to a roof's surface. Our single-ply flat roof systems include Carlisle, Mulehide, GAV, PVC, TPO, EPDM, Genflex, and Duro-Last.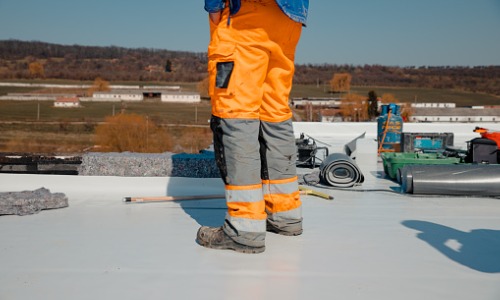 Duro-Last Roofing
Known as "The World's Best Roof," Duro-Last Roofs are one of our most popular singly-ply flat roof options. The Duro-Last roof is highly regarded for its incredible energy efficiency compared to other commercial roof systems. Each roof uses a white thermoplastic membrane, which is factory-sealed, highly reflective, and incredibly durable. With a Duro-Last Roof, you can expect:
Lower Energy Costs
Greater Tax Deductions
Protection Against Harsh Weather Conditions
Professional & Attractive Roof Design
Longevity of 15 to 30 Years
Call Today
Flat roofcs are crucial to the function of any business. To select the best flat roof materials installed by expert commercial roof contractors, reach out to the Beckwith Commercial Roofing team today. We serve Clinton IA, and the surrounding communities of Bettendorf IA, Moline IL, Rock Island IL, Cedar Rapids IA, and Dubuque IA. Also, we now provide commercial roofing for businesses throughout Phoenix, Scottsdale, and parts of Arizona. Call 866-801-2262 to learn more.